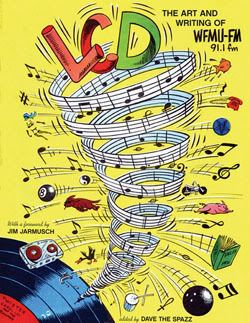 For the music-minded, back in stock is
The Best of LCD
, edited by Dave the Spaz, a collection of material from the program guide/magazine put out by legendary freeform radio station 91.1 WFMU here in New York and New Jersey. Filled with art, design, comics, and articles from the magazine's 26 issue run (premiering in 1986), LCD is a brilliant piece of print history for collectors or casual listeners alike. Pick it up for great art from the likes of Harvey Pekar and Richard Sala (along with scores of others), and articles ranging from "Why Playlists Shouldn't Be Politically Correct" to "The Perfect Repressing", or "The Step-By-Step Guide to Staying Unemployed", down to my favorite, "Why Don Mclean (The 'American Pie' Guy) Is An Asshole". Definitely pick this book up because we can't guarantee you how long it will last.
Retailing originally for a worthwhile $29.95, you can now pick up
The Best Of LCD: The Art and Writing of WFMU 91.1fm
here from Unoppressive for only
$9
.